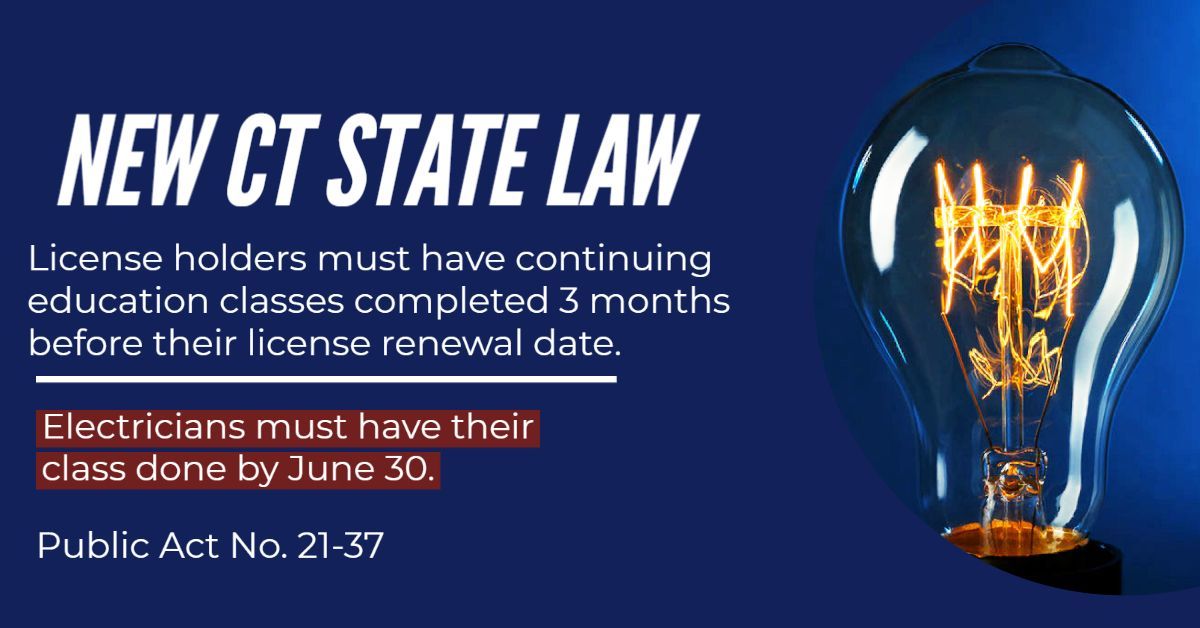 Electrical Continuing Education for the 2022 Renewal Year
The Construction Education Center is an official provider (#1275) of Continuing Education classes for unlimited license electricians in the state of Connecticut for the 2022 requirement. It is mandatory for licensed electricians to attend continuing education classes on a yearly basis. For 2022, four (4) CE hours are required for license renewal and the class must be taken before renewal. 

The 2022 class will include instruction on: 

Connecticut General Statues & Regulations
2018 Connecticut State Building Code
Safety
NEC Calculations

All license holders attending classes are required to have their own copy of the 2017 National Electrical Code as well as a functioning calculator.
License holders may use the published 2017 NEC book or may view the electronic version on an electronic device other than a cell phone.

For more information about continuing education, visit the Connecticut Department of Consumer Protection web site, or call us at 860.529.5886.
Coronavirus (COVID-19) and Continuing Education
Attendees must wear a protective face covering while in the building. We will be doing temperature checks with contactless infrared thermometers as you enter the building.  If your temperature is over 100.4 degrees Fahrenheit, you won't be able to attend class and will be rescheduled.  Social distancing must be maintained from all other people in the building.
Should you have any questions, please email us at info@thinkconstruction.org