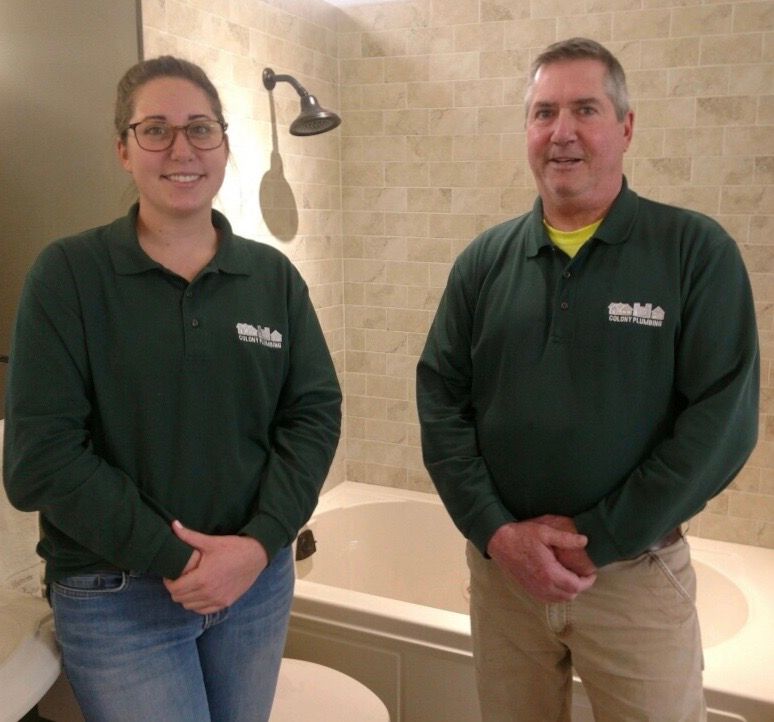 As part of Women in Construction Week, the CEC sat down with one of our female apprentices, Sarah Montano, to discuss her journey in becoming an apprentice with Colony Plumbing.
Why did you choose to become an apprentice?
               " I have a very unique story of how I entered the trade and I am very grateful for it every day.  I never thought I would be an apprentice.  And still to this day I am not naturally mechanically inclined.  I have had to work really hard on understanding the basic principles of taking something apart and putting them back together.  I did the whole go to school thing; received my Bachelors and my Masters and to this day I am still a Licensed Clinical Social Worker.
 I was working as a Director of Social Services for a Skilled Nursing Facility when I was faced with many challenges and obstacles that questioned my own ethics as a social worker and was getting quickly "burnt out".  Burnt out to the point where I did not want to get up to go to work anymore.  I did not want to leave my office to interact with the patients that I cared about so deeply.   And I was struggling to get my day to day tasks done.  It wasn't until I started looking for different positions [I found a position with Colony Plumbing]... At the time I started going back to school to get my nursing degree; but after 3 months of working [there] I had found so much enjoyment [in the field].  I have been an apprentice since January of 2019.  I am excited to continue to grow in this trade and to see where it takes me.  I still enjoy connecting with individuals we meet and I like knowing that I am still able to help others even if it was not in the same capacity as I was doing before."
What's your favorite part of the job?
                "This is a loaded questions because there are a lot of things being a part of this trade that are my favorite.  One would be traveling and being out on the road.  Looking out the window and seeing the beautiful landscapes, historic towns, and the individuals that I see and meet along the way.  I love that I am learning how to use different power tools and how it is empowering me to want to do better and giving me the confidence I need to do specific jobs.  Lastly, I love helping and teaching others the knowledge that I have learned so I can continue to build a trusting rapport with our customers."
What is a piece of advice you have for girl (tween/teenager) thinking about into the industry?
                "My advice would be that you are just as good as anybody else in this field or even better.  There will be times it will be intimidating but as long as you take a few deep breaths, have confidence in your skills, and remember what you bring to the table then there is nothing that anybody can say or do that will get to you."
Women in Construction Week is the first full week of March. The purpose of Women in Construction Week is to change the stereotypes that women face when it comes to careers by giving them new opportunities to look at.  The construction industry has many places where women can advance and build a career for themselves.